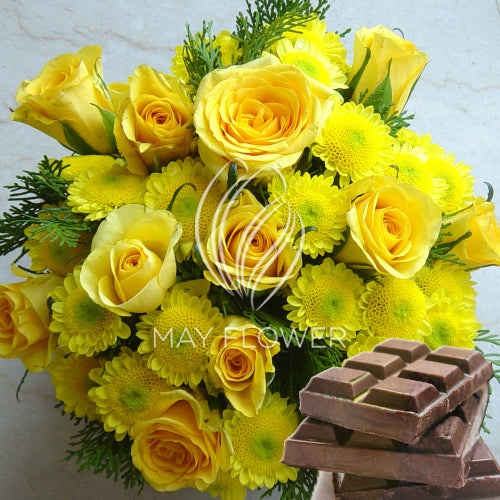 Yellow Hand Bunch With Chocolate
If it's time to sweeten the mood, this gifting idea will certainly please anyone. It has a nice warm glow to it and gives a feeling of joy. It's not only about the pretty yellow flowers but the sweet chocolaty touch we have given to it. We have got together a bunch of beautiful yellow roses along with some seasonal yellow florals that come together in perfect unison. The warm colours and intricate textures are a delight to look at and adding Cadbury chocolates to this arrangement, makes the creation even more special.
customers are viewing this product
Orders placed before 3:00 p.m. IST can be delivered on the same day to most major cities and metro's. After this time the order will be delivered within the next 24 hours.

Cities that are remote will be done within the next 48 hours.

If the item in a remote location is undeliverable then the buyer will be informed and refunded the amount paid.

Delivery on Public Holidays excluded. We do deliver on Sundays at most locations in India.

Delivery time is between 9 a.m. and 8 p.m. Before and after this time please inquire via mail.

Delivery on special occasions for e.g. Valentine' s Day, delivery time cannot be guaranteed. Valentine's day orders received up to 13th February 12:00 noon IST, will be delivered on 14th February. After this time the delivery maybe done on 15th February. Due to heavy orders the order may be delayed to the following day.

All customers are automatically sent a confirmation that we have received their order, as long as they have provided us with a valid email address. You can also track your order status in the order tracking system.

Every May Flower gift bouquet is personally hand-delivered by an industry professional, and we make every effort to deliver your order as quickly as possible.

Unfortunately we are unable to guarantee time of delivery to rural route addresses, hotels, hospitals, military bases or cemeteries. To request a specific delivery time, please type it into the Special Instructions field during checkout. We will do our best to accommodate your preferences.

Before major holidays, we recommend that you place your orders at least five days in advance.

Requirements from buyer and general information

Picture shown is only an indication; actual product may vary as flowers are seasonal in nature and may or may not be available in the delivering city. However we will try to send the gift as close as to the picture shown and flowers may be substituted in respect to color, variety, size etc as per availability. If the flowers shown are not available a similar variety will be used of same or higher value.

Buyer is required to give name and address of receiver with pincode, telephone number of receiver, date of delivery and the message to go along on the card to be mentioned. May Flower will not be responsible if the recipient address is incomplete or incorrect, recipient refuses to accept gift, and recipient is not present at the delivery location. Delivery to military bases, prison etc may not be possible.

Add on gifts such as Stuff Toys, Chocolates, Cakes, Dry Fruits, Fresh Fruits etc may differ from city to city but we will send the same or higher value substitute if necessary. Add on gift and the flowers may not be delivered together at the same time in the delivery city. In the case of cakes, sometimes due to limitations, you may receive 500g x 2 instead of a 1kg cake due to time limitations. Picture is just an indication. Actual product may vary from time to time.

Delivery on Public Holidays excluded in the delivering city. Deliveries on Sunday available in most cities in India.

Delivery time is between 9 a.m. and 8 p.m. However, time of delivery cannot be guaranteed. Before and after this time please inquire with our customer care.

Midnight delivery can be done only in selected places and will be charged extra depending on location.

All Flowers are procured fresh from growers hence quality is guaranteed.

If you require something other than what is provided kindly Contact Us and we will arrange it for you.

Most orders are processed immediately once the order is placed.
We can accept cancellation requests only 24 hours prior to the delivery date.
Cancelation requests to May Flower upto 24 hours before delivery date are subject to 10% cancellation charges and 90% refund to the original source of payment. May Flower reserves the right to decide on the cancelation charge waiver.
Cancelation requests that are less than 24 hours to the order delivery date, May Flower reserve's the right to charge upto 100% of the order value as cancelation charges. 100% refund is not assured but can be requested depending on the situation.
Delivery attempt will be made only once. Should the recipient or delivery location not accept flowers, there will be no refund and 100% of the value will be charged.
Flowers: How to Lengthen the Life of Your Arrangement
A little extra care can make a big difference for any size flower arrangement or fresh flower bouquet.
Most floral arrangements last 4-7 days or longer, depending on the flowers used and the care they receive.
Your flowers may take up to 24 hours after being placed in water to reach their full potential. Strip off all excess foliage and leaves below the water level to reduce and harmful bacteria within the water. Bacteria can block the stem and stop the flowers taking up the water
Keep the vase filled (or floral foam soaked) with water
If possible, re-cut stems by removing one to two inches with a sharp knife. Be sure to use a sharp knife or clippers that will not crush the stems. Immediately place the stems in water.
Keep flowers in a cool spot (65 to 72 degrees Fahrenheit), away from direct sunlight, heating or cooling vents, directly under ceiling fans, or on top of televisions or radiators. (Appliances like televisions give off heat, which causes flowers to dehydrate.) Most flowers will last longer under cool conditions.
Keep the vase, container or liner filled with fresh water. Even if the container has floral foam, you should keep the water level high to promote long lasting flowers.
Flowers like their stems trimmed. So, trim them, at an angle with a knife (rather than scissors) by an inch or so. When trimming stems, always cut at an angle of roughly 45degrees; this increases the surface area allowing your flowers to absorb more water.
Every few days, remove the flowers from the vase and re-cut the stems. Remove 3/4" to one inch from the bottom of the stem and be sure to cut the stem at an angle to allow the flower the best chance to take up water. Use a sharp knife or sharp floral cutter or scissor. Avoid smashing or piercing the stems, as this can destroy the water vessels in the stem and prevent water absorption. Remove any spent or damaged blooms or foliage that falls below the waterline in the vase.
For loose bunches or boxed flowers:
Keep your flowers in a cool place until you can get them in water.
Fill a clean (washed with a detergent or antibacterial cleaning solution), deep vase with water.
Remove leaves that will be below the waterline. Leaves in water will promote bacterial microbial growth that may limit water uptake by the flower.
Re-cut stems by removing one to two inches with a sharp knife. Place the flowers in the vase you've prepared.